Walkie Belt


Designed to free up your hands and pockets making it easier for you to walk, run and exercise with your dog. The Walkie Belt sits neatly and tightly on your hips so you hardly know your wearing it and best of all it looks much more stylish than a bum bag. Use it for running with Fido, going out for coffee with your doggie friends or just for a casual walk to the park. Just hang it at your front door with a spare house key in the front pocket and all you need to grab as you leave the house is your dog. Genius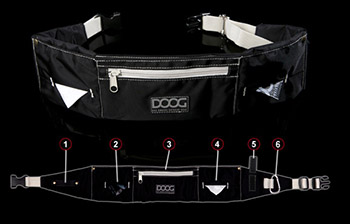 ALL THE KIT YOU NEED TO GO WALKIES
Lightweight and stylish the Walkie Belt is designed to carry everything you need when out walking or exercising with your dog.
Key Features
1.   Tidy bags and scented hand wipes pre-inserted
2.   Carabiner to attach leash (once dog is let off)*
3.   Front pockets to hold more treats and valuables
4.   Tennis ball holder
5.   iPod clip
6.   All weather material
7.   Adjustable strap – one size fits all (max 140cm / 55inch waist
* NB. This product is not designed to take the weight of a dog. If you need this feature please see Cesar Millan Pro Belt.
Don't just take our word for it. DOOG has won awards including Editors Choice Award from Modern Dog and Most innovative gift! Woof woof. Read the DOOG Testimonials.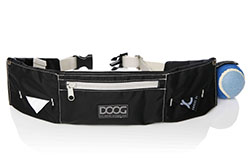 Black Walkie Belt
AUD $34.95 (incl. GST)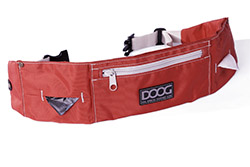 Red Walkie Belt
AUD $34.95 (incl. GST)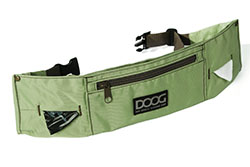 Green Choc Walkie belt
AUD $34.95 (incl. GST)
Here are other items you may like.
It's so easy to order your DOOG product today.
Stock is selling fast!
So to ensure you don't miss out simply email your order to this address, info@spotdogwalk.com.au, clearly stating your name, contact number and item/s you are after and we will do the rest!
The perfect walking accessory, a great gift idea and a wonderful way to contribute to the amazing work at Peninsula Animal Aid ( "PAA").
Notes:
•   15% discount for Spot the Dog Walker Collar Club members.
•   50c for every order is donated to PAA.
•   Shipping is 1-5 business days from the day sent at a cost of $11.00 to anywhere in Australia, which will be added to the order. Click here for more delivery details.
•   Orders confirmed upon receipt of payment. Orders will be cancelled if payment is not received within 72 hours of placement.
•   Payment is via a Direct Deposit into our bank account.
•   For information about our exchange and refund policy, click here.