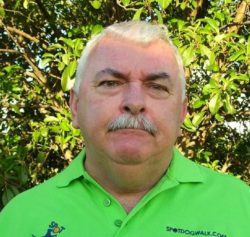 Name: Graham
Location: Tamworth (NSW)
Hobbies: Photography, Travelling and Model Trains. I am looking forward to being a member of the Spot the Dog Walker team in Tamworth . Growing up with cats and dogs has given me a great love and respect for them. I am keen for more exercise and walking your dog will benefit both myself and your pet.



Name: Belinda
Location: Tamworth (NSW)
Hobbies: Camping, I enjoy horseriding, keeping fit and spending time with family and friends. I have spent my whole life around animals and look forward to helping you out with yours.

Servicing Sydney and Tamworth, there's sure to be a friendly Spot the Dog Walker local in a neighbourhood near you!

To find out what walker covers your area contact us today on by phone 0422 239 006 or email at info@spotdogwalk.com.au
We are always on the look out for mature and passionate dog lovers to join our team

Does your dog chew, scratch or dig around the home? Whine, bark, or act manic?
"Difficult" dogs are often just very bored …

Great Places To Walk Your Dog!