Are you finding that you don't have the right gear to head out walking or that you think your dog could benefit from a different halti or harness? Then we have some suggestions for you! Check out some of our favourite products below and let us take care of the ordering for you!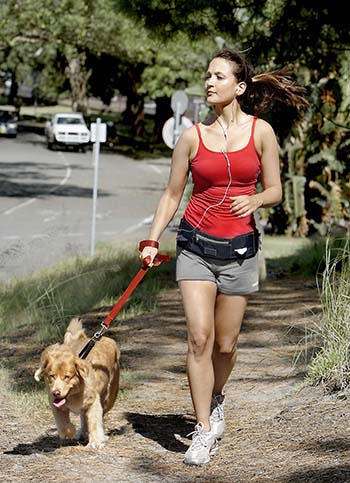 Spot the Dog Walker is proud to be a supplier for DOOG and Blackdog Wear, two leading suppliers of dog walking products, with a reputation for innovation, quality and good value. Everything they design and make is driven by their desire to make a dog walk more enjoyable for everyone.
Our walkers have put both DOOG and Blackdog Wear's products to the test and we are happy to say, they pass with flying colours!
Grab your first DOOG or Blackdog Wear product today and I am sure it won't be your last. By letting us place the order for you, you will be doing your small part in making a huge difference to a rescue dog in need with $0.50 per sale going back to the good people at PAA, Clontarf.
Select now from the following products:
Walkie Belt **MULTI AWARD WINNING**
DOOG Mini runners' belt, **NEW**
Cesar Millan Pro Belt for dog training
Foldable Bowl (only 30g),
Dog Swim Bath Towel for drying off your dog
The Training Halter – over the snout wear to deter pulling on the lead (more info to be incl. soon)
The Balance Harness – over the chest wear to deter pulling on the lead (more info to be incl. soon)
It's so easy to order your product today.
Stock is selling fast!
So to ensure you don't miss out simply email your order to this address, info@spotdogwalk.com.au, clearly stating your name, contact number and item/s you are after and we will do the rest! It's that easy.
The perfect walking accessory or training tool, a great gift idea and a wonderful way to contribute to the amazing work at Peninsula Animal Aid ( "PAA").
Notes:
•   15% discount for Spot the Dog Walker Collar Club members.
•   50c for every order is donated to PAA.
•   Shipping is 1-5 business days from the day sent at a cost of $8.50 to anywhere in Australia, which will be added to the order. Click here for more delivery details. For DOOG products only – Blackdog Wear posted direct from supplier
•   Orders confirmed upon receipt of payment. Orders will be cancelled if payment is not received within 72 hours of placement.
•   Payment is via a Direct Deposit into our bank account.
•   For information about our exchange and refund policy, click here.
Gift Certificates Available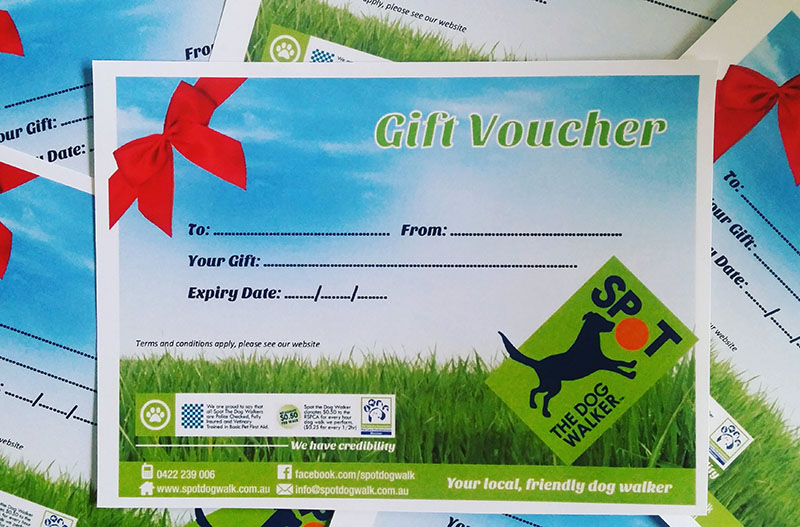 Are you looking for the perfect gift for that special someone? A gift that will ease their day and bring a lot of happiness to the furry member of their family? They may not be able to walk their dog as much as they would like to but one of our  local friendly dog walkers can help!
Delight them today with a Spot the Dog Walker Gift Certificate!