The Specialist in Private Dog Walking Experiences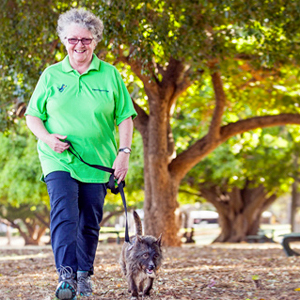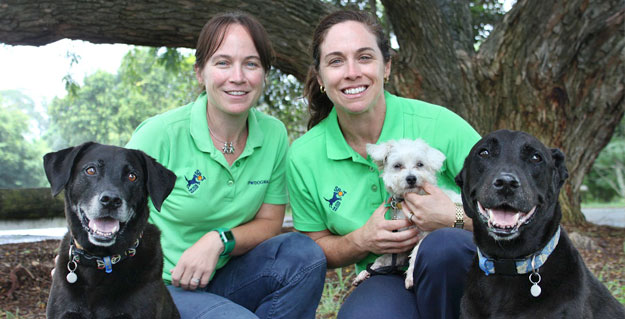 WHY YOU NEED US?
Spot the Dog Walker is an established team of dog walking professionals and pet carers. Based in Brisbane and Tamworth we cover walks for your beloved pets in most areas of those cities.
Our service includes one-on-one dog walking experiences, group walks, play activities – all part of a caring, personalized service based on the individual needs of your dog. Pet visits and home care duties are also offered and all services can be tailored to meet your needs.
OUR GUARANTEE
Your dog walker is local, well-matched to your dog's personality, trained in pet first aid, insured and has a police clearance
Your dog gets the exercise and play he/she needs and returns happy and content
We stand by these promises. If you are not happy with our dog walking service and find that your dog is not coming home energised and happy after his/her walk or you have complaints about the dog walker, we'll give you a full refund!
THE ALPHA FEMALES!
Lisa Nisbet and Katrina Nelson are two sisters, both married with young boys of their own and they are the pack leaders of Spot The Dog Walker!
They went from pipelines and patients to parenthood and pooches! Both shared a passion and love of dogs, together with a desire for a flexible home-run business that allowed them to raise a family; and so in 2010, when they recognised the need for ultra-busy pet owners to get some help with dog walking, Spot The Dog Walker was born!
The business has expanded but it has never lost that family feel. You might see them in a local park conducting their training days with a picnic blanket and a couple of children running around!
"Your dog's too important to be entrusted to the kid next door. Let the dog walking professionals handle it."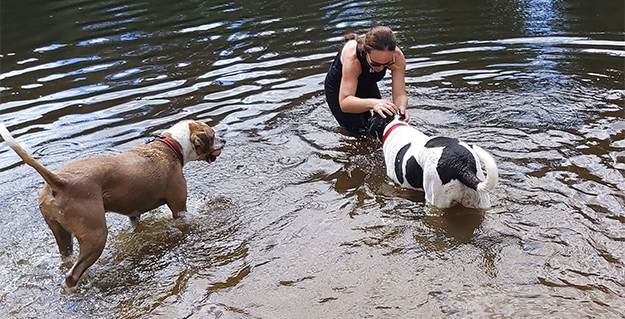 PRIVATE ADVENTURE TRIPS
We now offer Private Adventure Trips so we can take your dog out for a longer and more interesting adventure of 1, 2 or 3 hours.
This allows us to explore further afield, discover bush track or even make time for a swim. As a private service, we can devote all our attention to your dog and cater totally to you and their needs.
Frequently Asked Questions
What kind of experience do you have?
▼
We are not dog trainers but all have experience with dogs to some degree. We are dog owners or have been dog owners and all share the common goal of wanting to spend more time with dogs. We love the outdoors and helping people and adore filling up our spare time by giving that extra adventure when you are unable to.
Will I get to meet the walker beforehand?
▼
Yes of course as safety is our number one priority. We will identify by name and photo who your walker will be in advance and then arrange a FREE meet and greet before you decide to commit. It is important that you and your pet feel comfortable with your local walker and equally, that they feel confident with your pet too.
What happens if my walker is sick?
▼
You will be allocated a primary walker but overtime you may get to meet another walker too. Unfortunately we all get sick or need to take leave so here at Spot, we aim to work as a team. If your primary walker is away, we will try to arrange for a back up walker to fill in so that your pet does not miss out. If a back up walker is not available, we can make up the walk on another day of your choice or credit the walk back to you.
Where will you take my dog?
▼
Your walker will be local to your area so will have some knowledge of the nearby parks, footpaths and reserves. We love to hear about your dog's favourite place to go and if convenient, we are happy to take them there as well. If time permits, some walkers can pop your dog in their car and take them
What kind of animals do you care for?
▼
We are mainly looking after dog's but we love all animals! We can visit your cat, bird, fish, guinea pig…just ask and we will do our very best to accommodate.
If I am away, could you put my bins out and collect the mail?
▼
Yes we can! We are more than happy to put out/bring in the bins, collect mail, water plants, poop scoop and all at no extra cost. We simply incorporate it into the visit time.
For a casual booking or holiday care we will email you an invoice with a BSB and Account Number for easy payment online. For a regular weekly routine we can set you up on an automated direct debit which will occur on the 1st of each month for walks occurring that month. It is still super flexible and easy to make a change.
We absolutely are! We have public liability for your pets and work cover for our walkers. We also ensure all walkers have a police check and have been thoroughly screened by our recruitment team before jumping on board.
What is your cancellation policy?
▼
Walks are booked and paid for in advance but we understand that sometimes changes need to happen. We only ask that you please give us 24hrs notice for a cancellation or a request to reschedule.
How many dogs do you walk at a time?
▼
The maximum number of dogs we choose to take out is 3. We feel this is a comfortable number to safely manage and still be able to give them the attention they need.
Will I get a daily update?
▼
Yes and we can attach a photo too! All walkers send through a short blurb after every service they complete and this is emailed to you at the end of the day. It's a great way to keep up to date with your pet's progress.
Do you walk in the rain?
▼
We are more than happy to walk in the rain as long as it is still safe to do so. The best smells come out in the wet and many dogs enjoy the rainy days the best. If it is heavy or storms about we would contact you to reschedule.
Can you still visit on a weekend?
▼
Weekend visits are very common and come at no extra cost (unless it falls over a holiday period). It will just come down to walker availability in your local area.
Do I need to give you a key?
▼
That is entirely up to you but we are happy to securely hold them for you if needed. Some clients keep their side gates locked or need us to enter their homes. We will work with whatever arrangement you are comfortable with, whether that be using a hidden key, a key from a locked box or holding onto a key for the duration of the service. All keys would be unmarked for security reasons.