Careers
We are always on the lookout for mature and passionate animal lovers to join our team of dog walkers and pet sitters.
We are currently only recruiting in the areas of: WYNNUM & ASCOT.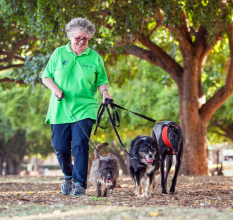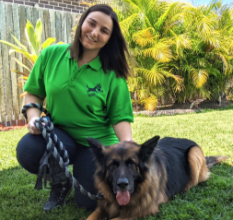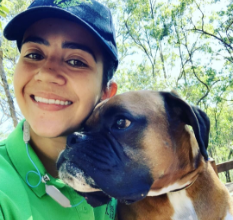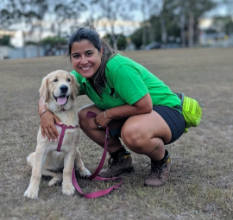 As a Spot the Dog Walker team member, you'll get to:
Spend lots of time with all breeds of dogs;
Keep fit and healthy while enjoying the beautiful outdoors;
Earn some extra cash while doing something you love;
Work independently without the pressures of being a business owner;
Support your local community and the RSPCA
Ideal candidate qualities include:
Mature, friendly, caring, trustworthy, reliable and self-motivated;
Passionate and experienced with dogs (big and small);
Licensed to drive with own vehicle;
Flexible with time and can offer hours during the business working week;
Can access the Internet and a mobile phone.
FREQUENTLY ASKED QUESTIONS
No you don't, we take care of the business side for you so you can just have the joy of walking the dogs! All our walkers are employed on a casual basis only.
How much work will I get?
▼
We can not guarantee set hours as demand is different in every area and can fluctuate regularly. Work is allocated in service intervals (30m/60m) and not in a block shift which is similar to most other areas of employment. Some of our walkers are covering 1 – 5 services a day while others simply cover the occasional holiday booking.
I have a baby/toddler, can I take them out walking with me?
▼
Unfortunately not. Safety is our number one priority and we must have our walkers focused 100% on their client and their pet. We must be prepared at all times for any situation and can not afford other distractions.
Do I need to have special dog training to apply?
▼
The simple answer is no. We are not dog trainers and we make that clear to our clients, but we are a team of people who truly love animals, the outdoors and exercise and fortunately have some spare time in our day to help them out with their pets. You may have a dog of your own or had one in the past, or simply love dogs and are prepared to learn more about them. A passion, a commitment and a lifestyle match is more important.
What happens if I am sick, who will cover my walks?
▼
We work as a team and we cross cover quite a lot. Our ideal situation is to have 2 or more walkers who can cover the same area. So if you are ever unable to make a walk, you notify us immediately and we can try to make alternate arrangements.
What happens if a dog doesn't like me when we meet?
▼
This rarely happens but it still can. We begin every enquiry with a Meet and Greet so that the walker, client and pet/s can make sure they are all a good match. If for some reason anyone is not comfortable, then we simply just don't go ahead. Sometimes a dog may just be scared or anxious on the first day you return to walk so we just need a little more time to bond. We or the client can assist in building this trust.
Who do you call in the case of an emergency?
▼
If it is a serious emergency where you or another person are at risk, then always call 000 first and then us. If the pet/s in your care are at risk, you always call us at admin to update on the situation and to seek advice. We may be able to give you the answers you need, advise you to go directly to the Vet or can contact the client on your behalf. We are always contactable by phone, text or email and believe that you can never over communicate.