Dog Aggression
Posted on 04 December 2019
What your growling dog is really trying to tell you
To humans, a dog who growls, sneers and threatens to bite another dog is being aggressive.
But what looks like aggression to us may be something else altogether, and understanding that is key to helping your dog learn to enjoy the company of fellow canines, says Vicki Pinn, a dog behaviourist at The End Result Canine Behaviour Consultancy.
Many dogs who show their canines to others aren't really aggressive, she says. Instead, they are displaying "reactivity," which results from a lack of education in dog etiquette.
Dogs fail to get this education for many reasons. Some may have been raised as fighting dogs. Others never get the opportunities they need as puppies to learn how to get along with their mates, possibly because vets so often tell owners to keep unvaccinated dogs away from others, Pinn says.
"Aggression is completely different to reactivity," she says. "Reactivity is whinging. It's more . .like a child that doesn't know any manners."
And growling lets them get their point across: "Growling is working for them," Pinn says. "He's baring his teeth and saying to that dog, 'I'm not feeling comfortable with you in my space.'"
Owners often unwittingly aggravate the problem when they respond by yelling and yanking their pet away. This only reinforces that growling will get the dog what it wants — distance from the source of discomfort and uncertainty.
Hiring a trainer may be the best way to teach a reactive dog how to respond in a socially appropriate way. Teaching a dog new ways of responding to other dogs often requires repeated sessions over many weeks under the eye of a trainer who is skilled at understanding a dog's personality and body language.
Some trainers advise using treats to reward dogs as they get closer to other dogs without reacting, but Pinn does not think this is the right place to start because it does not deal with the dog's anxiety about not knowing how to behave, which is the root of the problem.
Instead, Pinn works to develop a relationship with the dog and teach the command "Leave It" and then eventually use it when meeting other dogs. She used this approach recently with Brax, starting by taking him on walks and swimming in places where she knew there would be no other dogs. These activities increased Brax's trust in Pinn and gave her insight into his personality.
She then began telling Brax to "Leave It" while holding some food in her hand. Brax got praise the moment he looked away. From there, Pinn gradually increased the distance between her and the dog. If Brax began moving toward her and the food, she reminded him to "Leave It."
After teaching a dog "Leave It," Pinn determines the dog's "safe distance" — the amount of space it needs to avoid reacting and growling.
"For some, it's a few metres," she says. "For others, it's a football field."
Then, she slowly starts introducing the dog to areas with other dogs, keeping them at a distance that feels safe and issuing the "Leave It" command if the dog starts reacting. She rewards the dog with heavy praise for positive responses.
Gradually, she reduces the distance, allowing the dog to get more comfortable as it gets closer to its mates. After many weeks of working with Brax this way, Pinn introduced him to a dog she knew got along well with others. Brax sniffed the new dog a bit, and they began to play.
"The owners were overjoyed," Pinn says.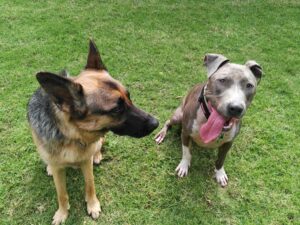 ---