Perrin Park, Toowong
Posted on 08 October 2013
Dog Park Review – Perrin Park, Toowong
By Anne-Marie George
It appears to me that the suburban plot is definitely shrinking and in some cases disappearing all together beneath several storeys of townhouse or apartment dwellings.  However, our desire for a family pet appears to be just as strong as ever, which begs the question, 'Where are the aforementioned animals meant to roam?'  Enter the dog park; designated locations within some City Council parks specifically cordoned off for canine frivolity.  Over the next several weeks I will investigate these facilities and assess them based on the following criterion:
Size
Water bays, bins and poo bag dispensers
Undercover seating
Parking and access
My first feature Dog Park is Perrin Park, Toowong, in Brisbane's Inner Western suburbs.  The park proper is an enormous space, primarily given over to human leisure pursuits, however the dog specific area is fully fences and spans a useful 2127metres squared, ideal for a vigorous game of fetch but not so expansive as to engulf a smaller breed.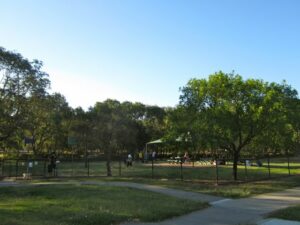 A well-sized car park runs parallel to the dog park and can be accessed by a dirt track off Heroes Rd.  The main entry is double gated limiting the opportunities for a breakout.  This is also where poo bags, bins and water can be found.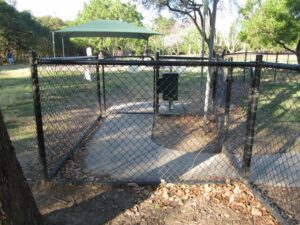 The perimeter of the park is dotted with trees and a few seats, whilst a lone shade cover with benches provides shade for owners as their dogs' play and roam.  Regulars agree that the dog park is an excellent facility, which their dogs enjoy, although they would appreciate a little extra undercover space.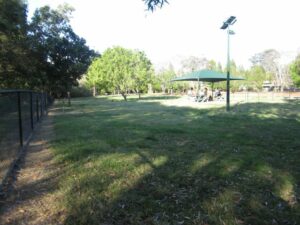 ---