Dog Towels
CLEAN, DRY DOGGIE
Made from anti-bacterial, quick dry material this is the 'must have' accessory for owners of hounds with a penchant for water sports.
These are great for drying off wet dogs after a swim in the sea or a run in the rain. Applied straight afterwards these will keep nasty niffs to a minimum.
Keep one in the glove box or hang it to your Walkie Belt's carabineer by the neat little airing mesh pouch.
Acts like a shammy so you can wring it dry and re-use straight away unlike a normal towel where you have to wait to dry it out before re-using it.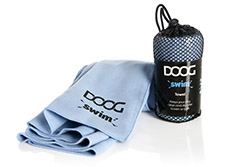 Dog Swim Bath Towel
AUD $14.95 (incl. GST)
Here are other items you may like.
It's so easy to order your DOOG product today.
Stock is selling fast!
So to ensure you don't miss out simply email your order to this address, info@spotdogwalk.com.au, clearly stating your name, contact number and item/s you are after and we will do the rest!
The perfect walking accessory, a great gift idea and a wonderful way to contribute to the amazing work at Peninsula Animal Aid ( "PAA").
Notes:
•   15% discount for Spot the Dog Walker Collar Club members.
•   50c for every order is donated to PAA.
•   Shipping is 1-5 business days from the day sent at a cost of $11.00 to anywhere in Australia, which will be added to the order. Click here for more delivery details.
•   Orders confirmed upon receipt of payment. Orders will be cancelled if payment is not received within 72 hours of placement.
•   Payment is via a Direct Deposit into our bank account.
•   For information about our exchange and refund policy, click here.