Water Rover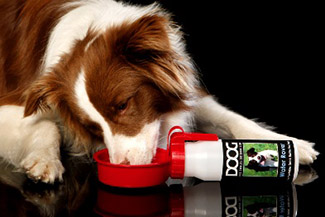 An ingenious portable drink bottle and bowl in one. Designed to be easily carried with you when you are out and about, clip it to your Walkie Belt or simply leave it in your car to give your dog a drink after your walk. Its innovative, patented design allows you to pour any unused water back into the bottle meaning you have to fill up less often and waste no water.
When your dog needs a drink, simply open the plug and lay the Water Rover flat on the ground and water will pour into the bowl. Allow your dog to quench its thirst and when finished pick up the Water Rover and the water will flow back into the bottle. Secure the plug and away you go.
Key Features
1.   Waste Free – water pours back into bottle after use
2.   Hand free – clips to waist or waist band
3.   BPA free – made from recyclable plastic
4.   Leak free – even when held upside down
5.   Hassle free – wide mouth to bottle makes it easy to fill with water or ice
This product has been a big hit in the US. See what DOOG's customers from the US say.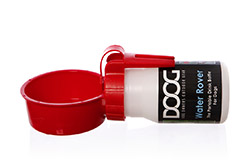 Water Rover (regular – 250ml)
AUD $13.95 (incl. GST)
SOLD OUT!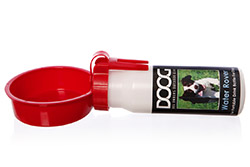 Water Rover (regular – 450ml)
AUD $15.95 (incl. GST)
SOLD OUT!
Here are other items you may like.
STOCK IS ALL SOLD OUT; PLEASE CHECK BACK LATER
It's so easy to order your DOOG product today.
Stock is selling fast!
So to ensure you don't miss out simply email your order to this address, info@spotdogwalk.com.au, clearly stating your name, contact number and item/s you are after and we will do the rest!
The perfect walking accessory, a great gift idea and a wonderful way to contribute to the amazing work at Peninsula Animal Aid ( "PAA").
Notes:
•   15% discount for Spot the Dog Walker Collar Club members.
•   50c for every order is donated to PAA.
•   Shipping is 1-5 business days from the day sent at a cost of $7.50 to anywhere in Australia, which will be added to the order. Click here for more delivery details.
•   Orders confirmed upon receipt of payment. Orders will be cancelled if payment is not received within 72 hours of placement.
•   Payment is via a Direct Deposit into our bank account.
•   For information about our exchange and refund policy, click here.