How to walk your dog.
Posted on 17 May 2018
Walking your dog should be a pleasant stroll, not an epic game of tug-of-war. But most dogs need a little training to be good walking companions. With a little work, you can teach your dog to walk beside you, or at least not to drag you down the footpath.
Start by making sure you have the right mindset before you head out for a walk, said Vicki PInn, dog behaviourist at The End Result Canine Behaviour Consultancy in Brisbane. Many owners think of their walks as a task to be completed.
"They're sort of thinking, 'Oh, I have to get the dog out so he can go to the bathroom before I make dinner,' and they rush out the door and they don't give the dog attention, or they are talking on their phone. And I think that's where we need to understand our animals a lot better. Everything should be done with love, and a walk should be more like me going for a walk with a boyfriend or girlfriend," she said.
Take a few breaths before you head out, and relax. If your dog gets over-excited when you pick up the leash, you may want to work on conditioning her to relax by waiting calmly with the leash until the dog settles down. Then, when both you and and your dog are chilled out, step outside.
Talk to your dog while you walk. You can point out a flower, tell your dog how much you missed him or anything else that comes to mind. Your dog is looking for more than a walk. She wants a relationship, Pinn said. Talking while walking encourages connection.
Your dog pays close attention to how you move, so changing direction and speed can help a dog be a proper walking companion.
"I also change direction very quickly. It's part of walking to de-energize the dog," Pinn says. "They start looking for cue of my body posture. And I use certain words all the time — 'this way, that way' — really encouraging what they are doing right and focusing on the dog working with me and bonding with me and wanting to be with me."
If you've seen dogs at dog shows that heel perfectly and gaze ahead without giving into distraction, understand that you don't need that level of perfection for your daily walks. Heeling that way is a different skill from behaving well on a lead, and it requires significantly more training.
Larger or easily distracted dogs can benefit from a harness or head collar such as the Gentle Leader. The Gentle Leader is not a muzzle. Dogs that wear them can still fetch, bark, pant and eat. Instead, a harness or Gentle Leader functions similarly to reins on a horse. They guide and help the animal feel and understand what human walkers want. Pinn prefers the head collar to a harness because she believes it provides greater control and communication.
"It gives them a kind of security," Pinn says.
If you decide to use a harness or head collar, take time to accustom your dog to the harness or head collar. Before you even put it on your dog, hold it close to them, let them see it while petting and praising. Slip the harness or head collar on repeatedly without leaving it on.
"To do desensitization properly, you have to do it over a period of days or weeks," Pinn says. "I'm not a big treat trainer, but for this, I may use a high-value reward such as shredded chicken, something they really love" to get a dog to see the head collar positively. Leave it on initially for just a few minutes and work up to longer periods before using the harness or gentle leader on a walk. These same techniques can help dogs adjust to a leash as well.
Training a dog to walk can take weeks or months of regular sessions. You may want to start with short training sessions in your yard where your dog will face fewer distractions. Exercising your dog by having him chase a ball or play another game before a walk can also help him calm down before working on training. Dogs that like to stop and sniff and refuse to move until they are ready or that are aggressive with other dogs may need additional work geared toward changing those behaviours.
You may need a lot of patience before you see change, but repetition, a calm demeanour and lots of love and attention will pay off.
"It's definitely a process," PInn said, "and it needs to be done properly."
To find out more please visit Vicki at The End Result Canine Behaviour Consultancy in Brisbane.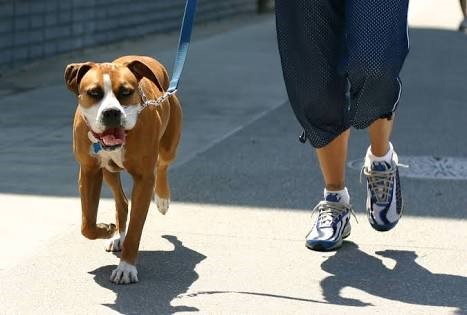 ---