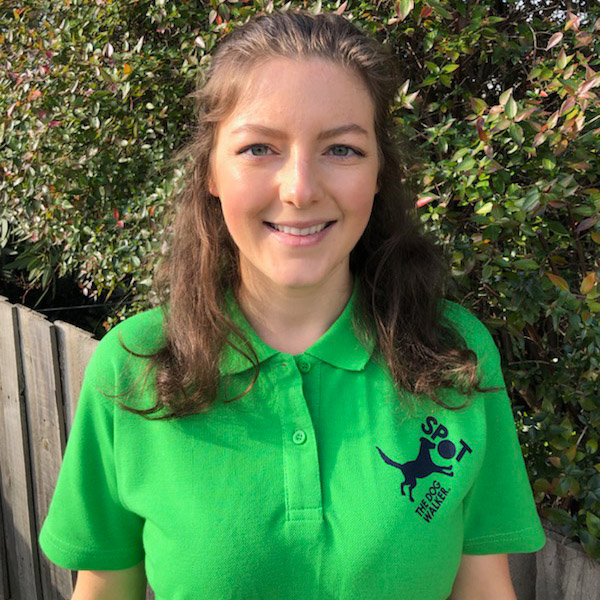 Name: Elle
Location: Sydenham
I was previously a volunteer at the Lost Dogs Home in North Melbourne where I was able to take the dogs up for adoption on walks. I am the happiest version of myself when I am outdoors, being healthy and active or when I have the company of an animal. I go on walks everyday, and I do prefer them when I have a dog with me. Honestly, there is nothing I enjoy more than being outside on a walk with a furry friend! Cannot wait to meet yours!

Now Servicing Melbourne!
We are currently on the look out for mature and passionate dog lovers to join our team in Melbourne – call us today!

Does your dog chew, scratch or dig around the home? Whine, bark, or act manic?
"Difficult" dogs are often just very bored …

What Walking Does For Your Dog
Dogs are a lot like you and me. They need to walk.
Walking:
Stimulates their brains
Allows them to socialize with other dogs and people
Helps them maintain a healthy weight
Can curb problem behaviors that stem from boredom, such as excessive barking or chewing
But I'm Too Busy To Walk My Dog!
If you live in Melbourne, you're often on the go. You're working, taking care of the kids or grabbing an espresso to fuel your next few hours. And when you come home, it's nice to relax with your dog instead of feeling like you have to tick off another item on your to-do list. Even if you do enjoy walking, your pet benefits from a little human attention and a stroll during the day to relieve itself and combat boredom.
With Spot, your dog will get love, attention, exercise and a chance to breathe in all the smells in your neighborhood. For a dog, a sniff-filled walk is like taking in a good movie. It entertains them and gets their brains working in a way that trotting around the yard can't, veterinarians say.
Spot can also ensure your dog gets out regardless of what Melbourne's weather brings.
A Few Precautions:
Only exercise in temperatures below 27C – early morning or late afternoon is good as dogs cannot regulate their body temperature as well as humans, and can get heat exhaustion.
Avoid walking on hot surfaces – dog can get blisters.
Limit play and exercise time as over-exertion can end up injuring your pet – keep throws low and use a lead that fits properly around the shoulders
Great Places To Walk Your Dog In Melbourne