Training Doesn't Stifle Personality
Posted on 24 September 2013
By Anne-Marie George
I love a dog with a bit of spirit and personality.  You can see the mischief in their eyes and I'm sure I have seen them smirk and grin at times.  They have so much life about them and bring so much joy to all those that they encounter.  However, many of the more lively dogs I've met also seem to be a bit on the mischievous or some might say naughty side of the behavioural spectrum, which makes me wonder, is it possible to have a well-behaved/mannered, yet spirited dog?
An orderly society requires parameters and structure in order for people to live harmoniously together and realize their own as well as the collective potential.  This phenomenon is no different and perhaps even more significant when we consider the canine species.  Dogs need an obvious and determined pecking order and to know their position therein.  If their owners neglect this responsibility then the dog will simply establish their own.  Our dogs need structure and rules because whether we care to admit it or not we all have expectations and standards, which often rear themselves when our dogs freely exercise their will, however destructive or annoying that may be.  Furthermore, such ambiguity is actually cruel and stressful for our dogs and can result in much anxiety compounding already undesirable behaviour.
Think of it this way.  You've just started a new job.  Apparently there's no boss, rules or expectations as the pre-existing staff members don't want to stifle your personality.  You're put in a room all by yourself with a desk, some stationery and a computer and left to your own devices.  Occasionally your colleagues come and check on your progress.  All of a sudden they're angry because you haven't done what they expected or wanted.  Then they're annoyed when you're desperately trying to talk to them because you've been starved of interaction all day.  Finally, to top it all off, they inflict some sort of punishment on you because you've been needy and unproductive.  This routine continues for a while; you become increasingly anxious and perhaps even start to display unacceptable behavior, before finally someone comes and tells you they can no longer tolerate your performance so they'll have to let you go; perhaps someone else can do something with you?
It seems outrageously unfair when we consider the scenario in these terms and yet there are owners that, perhaps inadvertently, treat their dogs' in this manner.  Therefore, at the outset, it is important to understand that structure, rules and discipline are not offensive but beneficial.  Furthermore, basic training will not transform your once happy, fun-loving pooch into an emotionless robot.  Show dogs, the ones that may have given us this unpalatable impression, submit to hours of consistent training by highly skilled handlers.  Additionally, the majority of show dogs enjoy down times where they are free to simply be the family pet.
Another concern for owners is the thought of oppressive, domineering training that results in a frightened, cowering dog, that'd rather hide from the family then interact with them.  Thus, it is paramount that we research the organization and their techniques before enrolling our dogs in any obedience school and select the group that best parallels our personality and ideals.  However, ensure the approach is balanced, consistent and easily transferable to outside-training life.
A dog is a most prized possession and should be a wonderful edition to the family.  But just like children and let's face it, sometimes-even adults, our dogs need to know the household rules and expectations.  Most of us dream of long walks along the beach, kids giggling as they race the waves crawling up the sand, the sun setting ahead and the family pooch joyfully trotting alongside us happily off leash, all of us without a care in the world.  With a little training it can be a reality for all of us (unless of course you don't live near the sea, alternatively, replace with appropriate idyllic fantasy location) but that's the key, consistent, clear training.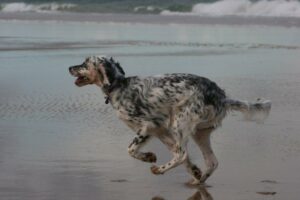 Culp, C., Thriving Canine, 2005, Thriving Canine, Can Dog Training Ruin My Dog's Personality?, http://www.thrivingcanine.com/can_training_dog_ruin_personality, 21st September, 2013.
Rogers, T., DarnFar Ranch, 2006, Will Training Ruin My Dog?, http://www.darnfar.com/Dog%20Training/will_training_ruin_my_dog.htm, 21st September 2013.
---