Rehoming a Rescue Dog
Posted on 10 July 2013
By Anne-Marie George
Several weeks ago I wrote an article entitled A Forever Fit, which shared some advice on responsibly choosing a dog.  I didn't have sufficient space to discuss the idiosyncrasies associated with rehoming rescue dogs so, as promised, I am now addressing this issue.
Getting a dog is a big decision, regardless of the dog's history – puppy from a breeder, pet shop or a rescue dog – and requires detailed research, consultation and long-term work and commitment.  However, the sad reality is that special needs and/or a chequered past often accompany the life experiences of the rescue dog; for some reason this precious animal ended up at a shelter, which means, they come with baggage.
As such it is pertinent that before you melt under the allure of a cute face and smoochy disposition, you know the breed most suited to your circumstances and ascertain as much information as possible about the dog (it may also be helpful to take a rational, detached person along with you to keep you focused and realistic).  Perhaps preparing a list of questions will also be beneficial, such as:
–       Dog's age
–       Breed or breeds
–       Temperament
–       Social skills
–       Pre-existing health issues and medical history
–       Common health and temperament issues associated with the breed
–       Exercise requirements
–       Dietary requirements
–       History – how did it end up at the refuge?  Was it surrendered, found or seized.  Was there evidence of neglect, abuse or malnutrition?  Does it have social or aggression problems?  Does it bark incessantly, dig or destroy property?
It is critical that you go to the shelter not just knowing but understanding and believing that a dog with issues or bad habits may not change, no matter how much money, time and/or effort you put into correction.  Consequently, unless you are a highly skilled dog trainer with ample time and finances, you should avoid falling for a high needs, misunderstood dog.
Once you feel confident that you have settled upon a potential new family member, take the dog to a secluded area for some one on one time.  Here you will want to determine if the dog feels comfortable with you and your family members.  Does it interact with you, enjoy being patted and is it gentle?  If the dog is either aloof/scared or aggressive or overly boisterous, this could be problematic.  Does it move around freely?  Can it be put on a lead and walked?  Does it have any training?  Can you give it a treat without loosing a finger?  If all the checks and balances align you can proceed comfortably, knowing that as far as it is possible, you have made a well-informed decision.
Fifteen years ago my family added a canine member to the clan, whose previous residence had just happened to be an animal shelter.  To this day my parents protest that they did not choose Max but rather he fixed upon them and determined that he was to be their new family member.  As you may have guessed Max exuded personality and instantly settled into family life, however we did find we had a few creases to iron out once he came home.
Firstly, he behaved like a maniac racing around the house and yard, jumping up on chairs and benches and exploring and engaging with everything he could lay his paws upon.  We also learned quickly that he was infested with parasites – fleas and some sort of other animal that looked a lot like a tick but didn't make him sick.  He had ceaseless energy, being Kelpie and an enormous appetite being Labrador – he was a cross of the two breeds.  Finally, he was a people person/dog and wanted to be with the family always and was particularly gifted in the art of manipulation, especially with those Labrador eyes, whenever we ventured out without him.
Fortunately, several thorough washes and treatments managed the parasite issue and the personality traits we happily enjoyed throughout his life.  Upon reflection and now with research I have learned that we should have gradually introduced him to the various parts of the house so that it wasn't so overwhelming for him, which would have curtailed the wild running around and jumping up on things, behaviour.
Enrolling (and attending) obedience classes was also a critical step in transitioning him from the shelter into a family, as was socializing him with other family and friends, especially children.  We also tried socializing him with other dogs but he wasn't particularly fond of this interaction.  I think the working dog in him just had no time for fancy-free play.  Engaging his mind throughout the day, with bones, a treat filled Kong, balls, plenty of gardens to examine and calm, cool spots for resting, also kept him from destroying the yard.
I can honestly say that Max was a wonderful addition to our family and his death earlier this year has caused great emotional and physical pain.  Technically, he may have started his life unwanted, potentially on death row in an animal shelter but once he found us he certainly found his family and we; our best friend.
Planning, research, being realistic and committed; investing time, training and providing activity and socialization are the essential ingredients to ensuring you experience the joy of incorporating a rescue into a family.  I can attest that you'll be so thankful you did.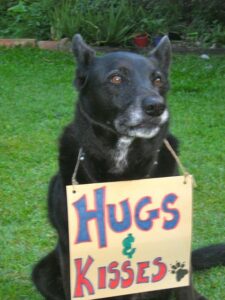 ---